As you know, Tokyo is a crazy city... I've been here about half a year already...
I've been busy posting things these days, because I was crazy like this as you can see in the pic... :P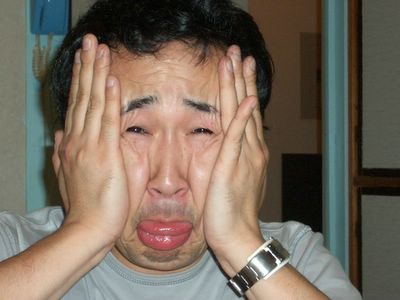 HERE I AM

Also, this is my surprized emotion toward knowing I've got a news from my advisor in the US about having my second publication would appear in the Nature magazine in this fall !!! I will talk about the amazing research what the boss has done when it appears in the world. Since, I cant talk anything until it actually appears in nature.com because of some secret thing for copy rights... Anyway...
Yea hooo~~~!!! So, living in Tokyo made me crazy like this.... Uh, was I like this from the beginning?! well, it may be true... If you make some effort in Tokyo, you can have some amazing luck, unexpected one!!! :)
I'm now start thinking about having a plastic surgery so that I could get my normal face back :P Any recommendation?! I think I'm really good at having stupid faces, I think on the otherhand, I can be a face actor at a scary movie or something... But it doesn't fit into normal life... Complicated...